about and cv

Photo credits: Elliot Ciz



Brody Weaver is a white-settler artist, writer, educator and researcher, and writer currently living and studying in Kjipuktuk (so-called "Halifax, Nova Scotia"). She has a BA in Art History and Contemporary Culture from NSCAD U with her graduating exhibition, The Speaking Subject, at the Anna Leonowens Gallery in January 2023. Brody was a Media Art Scholar at the Centre for Art Tapes in 2022-23 where she made a feature length documentary on trans people, health care, and the depth of knowledge that this community holds. She is currently the Education Coordinator at the Youth Project, where she educates on topics of gender and sexuality to P-12 classrooms, teachers, organizations, and post-secondary students, and has worked in archives and collections, academic research, and as a facilitator for art education programs.

As a genderqueer woman, she is entranced by and fixated on the construction of historical and contemporary knowledge about gender, sexuality, medicine, and trauma. Her work across media, installation, and text is research based and often makes (mis)use of archives and historical case studies to make archives messy and make messy archives. Across these sites of output, Brody works from a critical standpoint which interrogates the central role that power plays in what is known and knowable, and who is seen as knowing. She is particularly inspired by transfeminist theory, critical race theory, and theories of memory, trauma, and the archive. Overtime, her practise has shifted focus from material to media, with a sensitvity for the overlap of these approaches. Brody seeks to leverage the pedagogical (learning beyond the format and restraints of formalized education) potential of art and visual culture through participatory, collaborative, and community-based and processes.




Brody Weaver
b. 1999
brodyweaver@gmail.com
brodyweaver.com

Education

> (2022-2023) Media Art Scholar, Centre for Art Tapes (CFAT) Media Art Scholarship Program, Halifax NS
> (2020-2023) Graduate level coursework in the department of Art Education, NSCAD University, Halifax NS
> (2018-2023) BA Art History + Contemporary Culture, NSCAD University, Halifax NS
> (2015-2018) Bealart Foundations with Specialization in Installation, Intermedia, and Art History, H.B. Beal Secondary School, London ON

Solo and Two Person Exhibitions

> (2023) The Speaking Subject, Anna Leonowens Gallery, Halifax NS
> (2019) (re)tracing, Anna Leonowens Gallery, Halifax NS
> (2018) Objects of Intimacy, Bakers Dozen, London ON

Selected Group Exhibitions

> (2023) Test Test?, Centre for Art Tapes, Halifax NS
> (2022) Gaeity, Anna Leonowens Gallery, Halifax NS
> (2019) by their very nature, Anna Leonowens Gallery, Halifax NS
> (2019) Edition Toronto, Hektor Projects, Toronto ON
> (2019) Pride Art Show, the ARTS Project, London ON
> (2018) Lost and Found, Forest City Gallery, London, ON
> (2018) New York Art Book Fair, PS1 MoMA, New York NY
> (2018) Edition Toronto, Hektor Projects, Toronto ON
> (2019) The Affective Pull, Satellite Project Space, London ON
> (2018) Between Us (and You), The ARTS Project, London ON
> (2018) How to Say Orange in a New Jersey Accent, UPR LFT, London ON
> (2017) Satellite Award Exhibition, with Paul Chartrand, Ronnie Clark, and Hollie Pichette. Satellite Project Space, London ON
> (2016) Scale, Satellite Project Space, London ON

Public Installations

> (2020) Resituating Interruptions, the NSCAD Queer Collective and the Nova Scotia LGBT Seniors Archive, Nocturne, Halifax NS
> (2019) A Soft Place, the NSCAD Queer Collective, Nocturne, Halifax NS

Curatorial Projects

> (2022) Curatorial team, Slavery North: An Exhibition of Art, Artifacts, and Documents, lead curator Dr. Charmaine Nelson, Anna Leonowens and the Institute for the Study of Canadian Slavery, Halifax NS
> (2019) Curatorial team, Show and Tell, lead curator Dr. Carla Taunton, a performance series of community-based art practise, ArtBar + Projects, Halifax NS
> (2019) Co-curator, by their very nature, group exhibition, Anna Leonowens Gallery, Halifax NS
> (2018) Independent curator, The Affective Pull, group exhibition, Satellite Project Space, London ON

Published Written Work

> (2022) "Somewhere Between Then and Now," Lou Sheppard: Phase Variations, Nevermore Press, Lunenburg NS
> (2022) "Theorizing Non-Participation in a Mail-Based Participatory Visual Research Project with 2SLGBTQ+ Youth in Atlantic Canada". Weaver, B., Thorpe, A., Mandrona, A., MacKantee, K. & Burkholder, C. In Facilitating community research for social change: Case studies in qualitative, arts-based and visual research. Routledge.
> (2020) "Queer community archives", research article uploaded to Wikipedia.
> (2019) (re)tracing, exhibition catalouge, self published at the Anna Leonowens Gallery, Halifax NS
> (2019) "Ahuman Agency", commissioned essay for Ed Pien's lithograph Hungry Sea, litho.nscad.ca
> (2019) "Untitled (dear mom)", personal essay published in Cool Customer Vol. I, Toronto ON
> (2018) take me with you before you go, artist book published with Hecktor Projects, Toronto ON
> (2018) The Affective Pull, exhibition catalogue, self published at Satellite Project Space, London ON

Arts Work

> (2022) Facilitator and Program Development, "Zines, DIY Publishing and Queer Histories," partnership between the Anchor Archive Zine Library and the Youth Project, Halifax NS
> (2021) Facilitator, "Fashion Hacking for Queer and Trans* Youth," MacPhee Center for Creative Learning and NSCAD University's Fashion Department, Halifax NS
> (2021) Moderator, "Syrus Marcus Ware: Counter-Memory Activism Speaker Series," Counter Memory Activism Speaker Series, Halifax NS
> (2020) Archives and Special Collections Assistant, Anna Leonowens Gallery, Halifax NS
> (2019-ongoing) Member, NSCAD Queer Collective, Halifax NS
> (2018-2020) Installation Assistant, Anna Leonowens Gallery, Halifax NS
> (2019) Project Assistant, NSCAD Lithography Workshop: Contemporary Editions
> (2019) Archives and Special Collections Assistant, Anna Leonowens Gallery, Halifax NS
> (2018) Event Coordinator, Bealart Art Lecture Series, ArtLab, University of Western Ontario

Research Positions

> (2020-2022) Research Assistant, "Pride/Swell: An Art and Activism Summit" (SSHRC, PI Casey Burkholder), NSCAD University and the University of New Brunswick
> (2020-2021) Research Assistant, "Memory Activism: Collaborative Processes of Counter-Memorialization" (SSHRC, PI Solomon Nagler), NSCAD University and King's College
> (2020) Archival Research Assistant, Hubbard / Birchler, Anna Leonowens Gallery Archives, Lithography Workshop Fonds
> (2019) Research Assistant, "'For Us by Us': Children's Picture Books to Promote Solidarity and Acceptance in the Age of Refugees" (SSHRC, PI Dr. April Mandrona), NSCAD University

Talks and Panels

> (2021) Co-Chair, Roundtable, "Creative Methods for Disrupting Institutional Protocols", Universities Art Association of Canada
> (2019) Presenter, Roundtable, "Radical Curatorial Practises," ArtBar + Projects, Halifax NS
> (2019) Artist talk, "(re)tracing", Anna Leonowens Gallery, Halifax NS
> (2018) Artist talk, "Delay, Fragment, the Body that Passed: an elegy", Bealart Art Talk Lecture Series, ArtLab, University of Western Ontario
> (2017) Artist talk, "Art as Active Existence", Bealart Art Talk Lecture Series, ArtLab, University of Western Ontario

Selected Awards, Scholarships, and Grants

> (2018-2022) Creative Innovator of Tomorrow, NSCAD University
> (2021) Kevin and Karen Lynch Scholarship for Sculpture, NSCAD University
> (2021) Robert Pope Painting Endowment Scholarship, NSCAD University
> (2020) Beacon Project Funding, Nocturne, Halifax NS
> (2020) Joseph Beuys Memorial Scholarship, NSCAD University
> (2020) Thomas George and Ethel Pearson MacKenzie Scholarship, NSCAD University
> (2019) Allan C. Fleming Memorial Scholarship, NSCAD University
> (2018) Presidential Merit Scholarship, School of the Art Institute of Chicago
> (2018) Admission + Innovator Scholarship, Cooper Union School of Art, New York City
> (2017) Satellite Award Exhibition Recipient, London ON



Writing
> (2020/22)
Queer Community Archives
.
Research project uploaded to Wikipedia under the username 'basilweave.'
> (2022)
Somewhere Between Then and Now
.
Essay in the exhibition catalouge
Lou Sheppard: Phase Variations
, published by Nevermore Press in Lunenburg, NS.
> (2022) "
Theorizing Non-Participation in a Mail-Based Participatory Visual Research Project with 2SLGBTQ+ Youth in Atlantic Canada
". Weaver, B., Thorpe, A., Mandrona, A., MacKantee, K. & Burkholder, C. In
Facilitating community research for social change: Case studies in qualitative, arts-based and visual research
. Routledge.
>(2022)
Fugivity, Mobility, and Northern Climate Enslavement in the British Imperial World: Late Eighteenth-Century Runaways on the North Eastern Seabord.
Chrysalis: A Critical Student Journal of Transformative Art History
, edited by Dr. Charmaine Nelson, Institute for the Study of Canadian Slavery, vol. 1 no. 9.
> (2019)
Ahuman Agency
.
Commissioned essay for Ed Pien's lithograph
The Hungry Sea (2018),
produced for
NSCAD Lithography Workshop: Contemporary Editions.
The Speaking Subject

Anna Leonowens Gallery
Jan 31- Feb 4, 2023
Brody Weaver

Works in exhibition:
> For the Record
> Prerequisite
> PrEP: A Future Archive
> Gaetan Gaetan Gaetan
> On Being Looked At
> On Looking Back
In this exhibition, Brody Weaver presents media artworks created over the past four years that document her sustained investigations into gender and sexuality as they intersect with contemporary and historical life. The title of the exhibition, "The Speaking Subject" is drawn from transfeminist theory that centres the voice of the medicalized trans subject. It signals the production of knowledge by the trans subject who has previously been the subject of knowl- edge produced about her. Through her interrogation of historical figures and case studies across sexology, "Canadian" nationalism, queer history, transgender healthcare, and the HIV/AIDS epidemic she highlight instances whereby knowledge production, co-option, and appropriation come to bare on the uneven distribution of life and death. Three video-based works made between 2019 and 2021 are shown with new(er) installations which detail the institutionalisation of community-based knowledge never intended for our consumption in the forms they now exist in.
Resituating Interruptions

Nocturne
October 2020
Produced with the
NSCAD Queer Collective
in collaboration with the
Nova Scotia LGBT Seniors Archive
with contributions from
Wesley Riley and Vie Jones
.
View the project website
here
.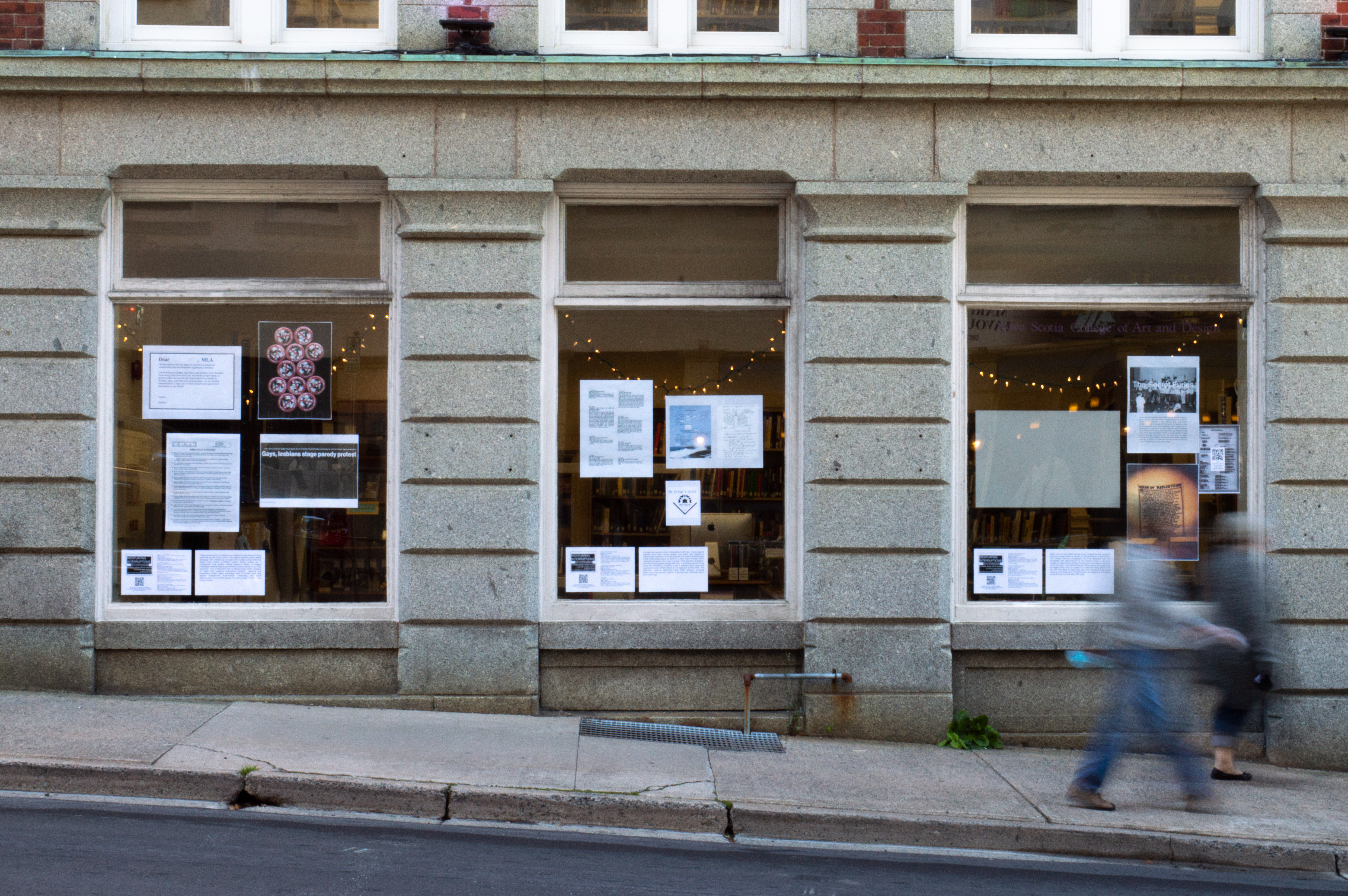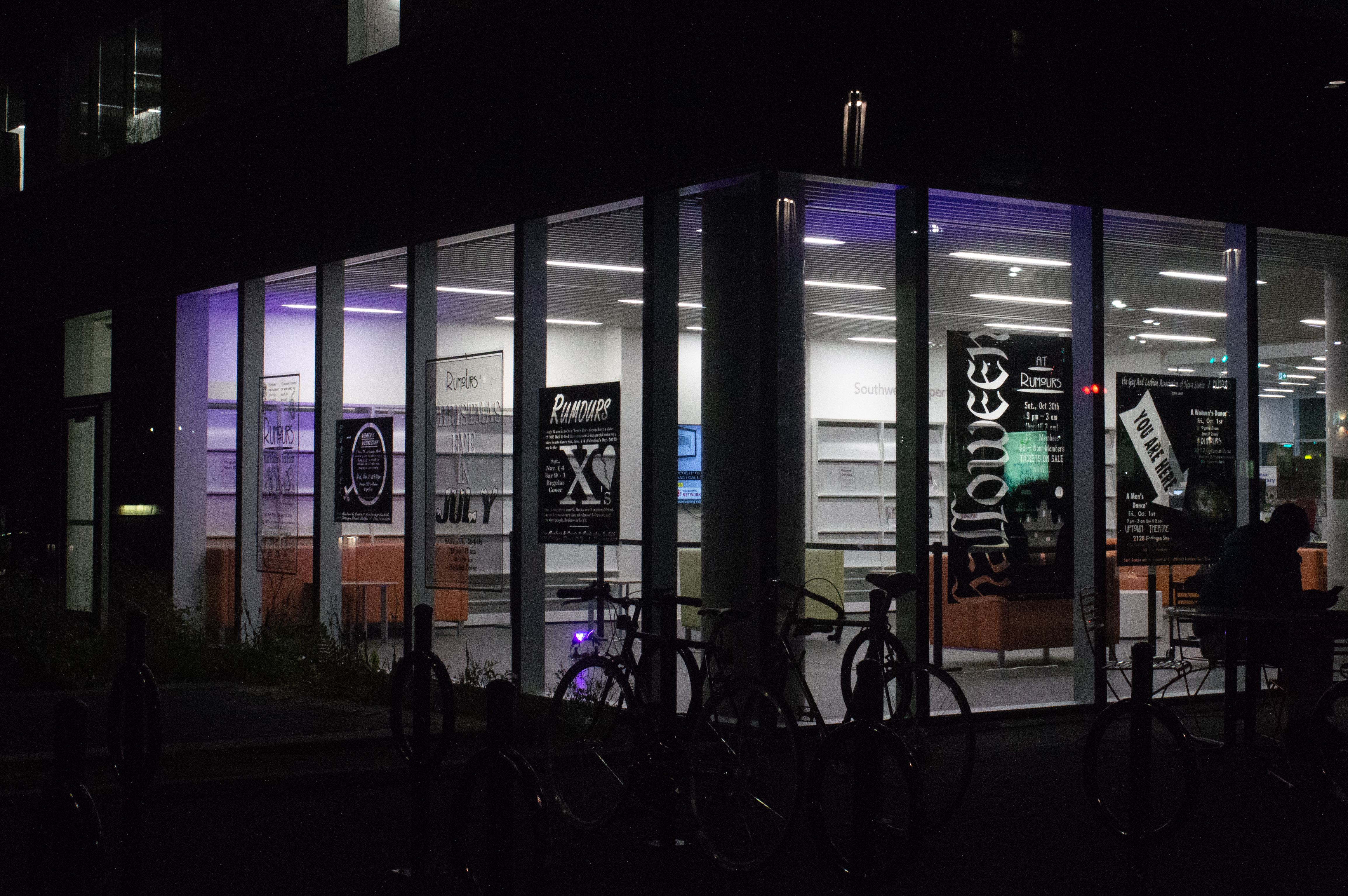 "2SLGBTQIA+ historical material is hard to find. Queer communities, for many reasons, do not always leave easily accessed paper trails. Erasure and censorship, both of information and physical space, is a felt problem. Often, queer history and knowledge circulate as whispers and word-of-mouth, between and among those who seek it out. The Nova Scotia LGBT Seniors Archive is the first institutional, dedicated queer archive east of Montreal. This project, made in consultation and partnership with the NS LGBT Archive's creators, seeks to mobilize and activate the contents of this collection on occasion of
its public launch on October 15th, 2020
."
– Project website