Taking to Strangers

Perfect bound magazine
Cover: 8.5" x 11"
Spread: 11" x 17"


This publication presents documentation of a digital performance in which the artist subjected their genderqueer expression to the world wide web on the chat roulette website Omegle. Screen recorded visuals sifting through historical publications on homophobia move into family photographs before moving to the open web. A cast of strangers react to their appearence with disgust, fascination, and fetishization.
Whispers from the Web
Perfect bound magazine
Cover: 8.5" x 11"
Spread: 11" x 17"
whispers from the web is a series of found jpegs, encountered using controlled search terms. Googling select queer identities with the emotions 'sad' or 'happy' delivered these images. The first result was saved. Superficial. In this process, Google, one of the largest search engines on the planet, was slowed down and it's endless feed made static. With results moving fluidly between photographs of people, objects, and memes, the work makes visible what identities, bodies, and behaviours have digital coherence and traces those which become largely illegible.


A Public Is a Relation Amongst Strangers

Perfect bound magazine
Cover: 8.5" x 11"
Spread: 11" x 17"
a public is a relation amongst strangers explores digital intimacy through the personal space of the desktop and open-face, hyper visible networks of online camming sites and chat forums. Documenting a performance which occurred in the private space of a single desktop and an absurd camming session with only one live viewer, screen recording moves disjointedly through typed meditations on the relationship between the body and technology, intimate space and network culture, emotional connection and distance to viewings of found jpegs and gifs, and ultimately ventures into the web. when i am online, where am i? i am here, at my desktop, typing this? if i upload this, will i be where the file goes? am i the person in the chair in front of an interface? am i the avatar in a social networking site interacting with somebody else? am i a set of data running through the atmosphere?
Hello

Brody Weaver and anonymous participant
Saddle stitched zine
8.5" x 5.5" (cover)
8.5" x 11 " (spread)
Produced with an anonymous collaborator met on Grindr, this work features the transcription of their conversation. Questions aksed were similar to that of a first date. After transcription, the interviewee had full power in deciding what would be made public and what would be redacted.
Stand In

Brody Weaver and Brit Moore-Shirley
Poster, 11" x 17"
2020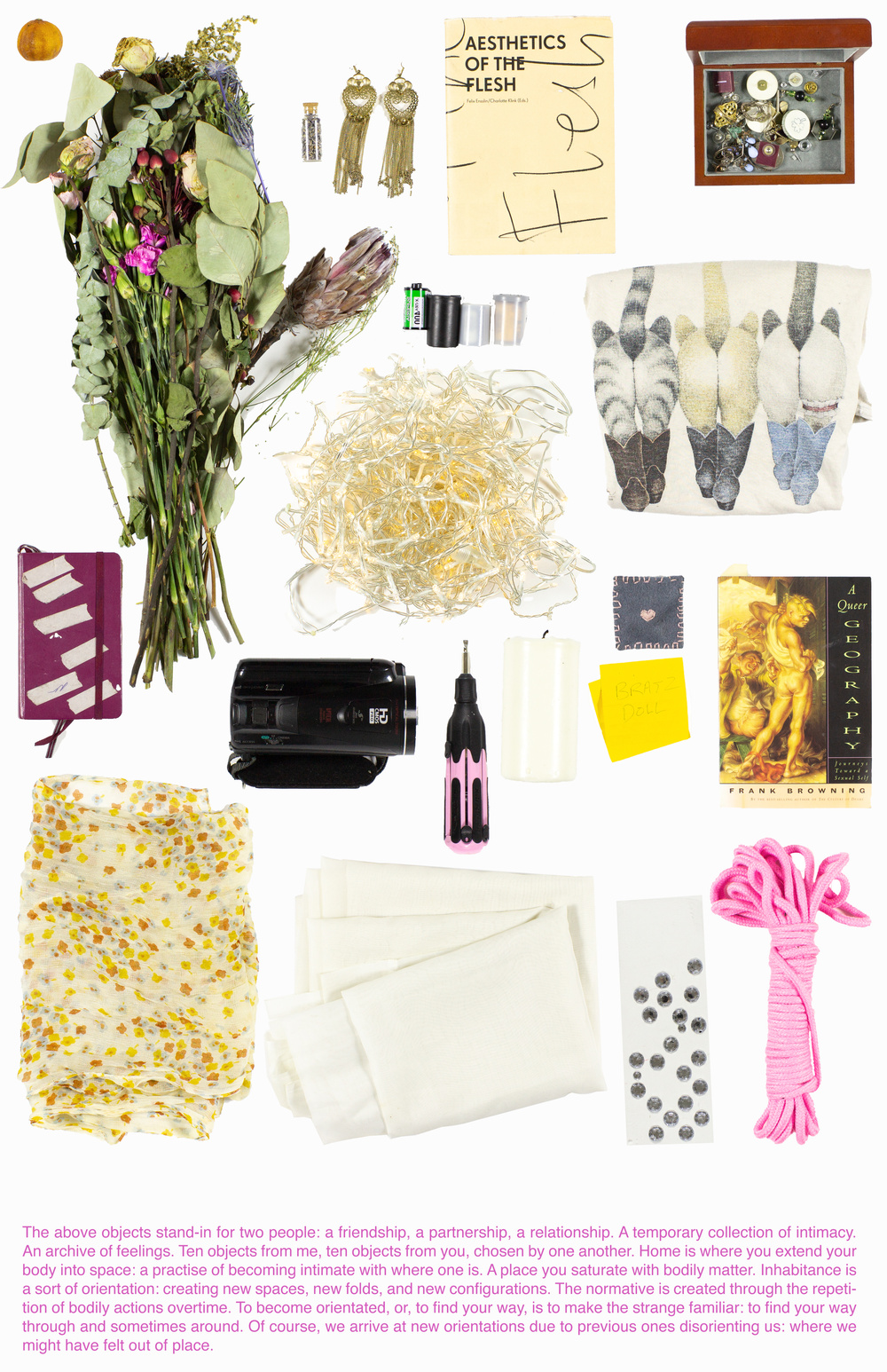 An unlimited stack of prints composed of photographs of objects chosen by the two collaborators in a representation of queer kinship structures within and againist familial traumas.

Text reads: The above objects stand-in for two people: a friendship, a partnership, a relationship. A temporary collection of intimacy. An archive of feelings. Ten objects from me, ten objects from you, chosen by one another. Home is where you extend your body into space: a practise of becoming intimate with where one is. A place you saturate with bodily matter. Inhabitance is a sort of orientation: creating new spaces, new folds, and new configurations. The normative is created through repetitive acts of bodily actions overtime. To become oriented, or, to find your way, is to make the strange familiar: to find your way through and sometimes around. Of course, we arrive at new orientations due to previous ones disorienting us: where we might have felt out of place.